Laptops for Students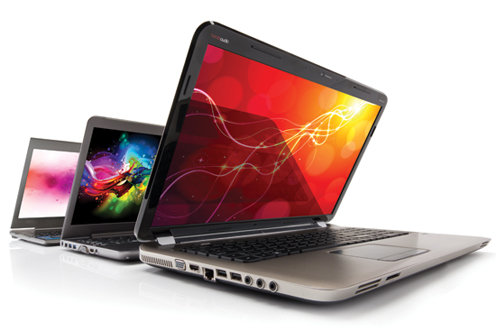 The laptop market has become increasingly fractured over the last couple of years. Netbooks are on their way out, and Ultrabooks are more than a student needs, but picking the right system is still more difficult and confusing than at any other time. Laptops have enjoyed years of popularity as the favoured choice of the casual computer user, and while the position of mid-range devices is looking increasingly endangered by the surge in tablet usage and the general trend away from high-powered computing, there's still life in the form yet. Indeed, if you don't already have one, an up-to-date laptop is essential for the new academic year. Over the next few pages, we've picked out the best models we could find at a variety of prices, aimed at a variety of uses. Whether you're a heavy user, a casual dabbler, a big spender or a penny-pincher, you should be able to find a laptop that meets your needs right here.

1. Cheapest Laptop: Lenovo B50 (?170+)

Sometimes you just want to spend as little as possible on a computer. Perhaps you have a tablet you use for browsing and just want a laptop to write on. Maybe your course has a specific piece of software you want to use at home. Or it could be that you just want to keep as much of your loan back as possible in case it's needed. Whatever your reasoning, when it comes to budget laptops, you won't find anything new that costs less than the Lenovo B50, which is currently available to buy from multiple outlets for just ?199.98. Better still, if you take advantage of an Ebuyer cashback offer currently available on the hardware, it can be picked up for the grand total of ?169.98. That's an insanely small amount of money for any system, let alone one this fully featured. Despite the price, the hardware is actually guite serviceable. It's not going to work as a gaming laptop, but only an incurable optimist would think otherwise. We won't pretend it isn't a little slow, but once it's booted up and you're actually working on it, you'll barely notice. In most respects it's perfect for writing essays on, and it can handle a little light entertainment too (we mean that in the sense of HD video and music, not in the daytime television sense - although students would no doubt appreciate that). Specs-wise, the Intel Celeron N2815 is the least convincing part of the package - a dual-core chip from last year clocked at 1.86GHz - but it'll do the job as well as you need it to. 4GB RAM is an adeguate if unimpressive amount (if we were going to upgrade anything, we'd add another 4GB), and while the 320GB hard drive might be cutting corners, it's not going to run out of space unless you consciously fill it with HD videos. Besides which, you can buy an external drive to compensate for a comparatively small amount of money. Beyond that, it's fairly standard. The 15.6" display is a good size, and the 1366x768 display - while not full HD - is sharp, large and vibrant enough that you probably won't notice that you're getting a slightly lower resolution. Integrated into the top of the screen there's a 720p webcam for video chat, and the laptop has Bluetooth capabilities so that you can attach extra peripherals wirelessly. There's an HDMI-out port, a 4-in-1 card reader, and three USB ports in total (one USB 3.0 and two USB 2.0), so it's compatible with all the latest hardware despite its price. As well as an Ethernet port it also has wireless N built in, so there's no need to buy any extra hardware. Essentially it has everything a modern laptop needs; it just saves on price by having less of it. Unlike some cheap laptops, this one still has a DVD drive. It isn't strictly necessary for studying, but at least you won't have to buy a separate one to watch films on. At 2.15kg it's not the lightest computer around, but nor is it too heavy to take out and about with you. A smaller battery helps its portability, but it does mean you only get around five hours of use without a mains socket, so beware. It might just about last the day, but an afternoon top-up would be a good idea. The only real problem is that the operating system is Windows 8.1; hardware like this would benefit from a slightly less resourceintensive operating system, and without a touch-screen it can't even access Windows 8's best features. Unfortunately, there's little alternative to it at this point. If you can handle a Linux installation, this hardware would greatly benefit from one, but even a Windows 7 downgrade would help. Keep that in mind if you're buying one.

2. All-round Budget Laptop: AsusX551AC(?280+)

Going for the cheapest hardware available might have its advantages, but what are your options if you want something with a little more heft behind it? If you're in the market for a general-purpose laptop that won't break the bank, we think the Asus X551AC is a good choice. Rather than a low-price, low-performance Pentium or Celeron, the X551AC contains a mobile Intel Core i3-3217U, which is clocked at 1.8GHz and is more than capable of running your operating system, applications and web browsing at a fair pace. You might even sgueeze a game or two out of it, though nothing fancy. This CPU gives the system the grounding it needs to have a convincing stab at just about anything you want to do, whereas a Celeron or Pentium will give up. If you're a light-to-moderate user (i.e. planning to use your system most days instead of once or twice a week) then this CPU or a comparable model is the minimum you should be aiming for. Aside from that, you'll find a lot of similar hardware to other budget laptops. Once again, 4GB of RAM is an adeguate amount for a low-price system, but if you can afford more, you'll get a decent performance hike out of it. Adding RAM is one of the cheapest ways to upgrade a system, so do consider it. Although it's not much bigger, a 500GB hard drive is far more convincing than a 320GB one, and it should be more than adeguate to run a system off without any particular maintenance with regards to disk space. The screen is 15.6" with 1366x768 pixels (standard for sub-Ultrabook systems), and there's still a DVD-RW and 720p webcam. The X551AC also runs on Windows 8, but it has an improved touchpad, which helps users take advantage of its touch-features. You can't touch the screen, but a smart gesture touchpad allows you to swipe and pinch as if you were interacting with the screen, which is the next best thing and far more intuitive than a simple mouse-replacement touchpad as found on cheaper laptops. Asus's X-series is also better suited to entertainment use, particularly thanks to its superior on-board speakers. They use proprietary SonicMaster technology and Asus's AudioWizard to tweak and adjust the audio to give the best sound possible. Connectivity includes a USB 3.0 port and a USB 2.0 port, Fast Ethernet and wireless N networking, and both VGA and HDMI graphics ports. Storage is augmented by Asus's proprietary WebStorage service, which can sync files across multiple devices, and a 4-in-1 card reader. Like the Lenovo B50, it weighs 2.15kg, and although the battery is slightly better, it still only runs for five hours on a single charge thanks to the greater power demands of the processor. The only real failing is the lack of USB ports. Two is more than even light users will realistically need, and they're also positioned a little awkwardly. Both are on the left of the device, which means if you want to use an external monitor or a separate input device like a mouse, you have to trail the cord around and hope nothing yanks it in the wrong direction. A minor annoyance, admittedly, but it's a good example of the sort of thing you have to accept at this price. Still, if the design cuts a few corners, at least you can't fault the internals. A system like this is priced around ?300, so while it's almost twice as expensive as the cheapest one on the market, it's definitely worth paying extra for. We'd aim for this type of machine as the minimum you'll need in practical terms. Only pay less if you're desperate for money or don't use a PC often enough to justify spending more than ?200.

3. Cheap Entertainment Laptop: Acer Aspire El-572 (?370+)

If you want a laptop that'll do more than let you work on it - if you want something that'll be of actual use when it comes to watching movies, playing games and listening to music while you work - then you need something with a little more power behind it. That power comes in the form of an Intel Core i5 chip, more RAM and a bigger hard drive. Core i5 machines start from as little as ?370, and we've selected one you should be able to find at exactly that price: the Acer Aspire E1. The most important component is, of course, the CPU. The Intel Core i5-4200U is clocked at 1.6GHz, and it'll treat most tasks as if they're nothing. Things like HD video and multitasked applications won't even register, and it'll take a huge number of tabs before your web browsing slows down. Without a separate graphics GPU, the potential for gaming isn't large, but the processor is good enough to run indie titles and retro games without any difficulties. It also helps bring out Windows 8's smoothness in design, which is something slower processors can struggle with. There's still only 4GB of RAM on laptops at this price, mainly because it's an easy place to save money, but as usual if you can upgrade, you should. The 750GB hard drive gives you enough space for running your system and storing games, video, music, and anything else you want to spend your time doing when you're not studying. Despite the superior internals, it's not a completely different story on the outside when you compare the Aspire E1 to cheaper laptops. Once again we find a 15.6" screen at 1366x768 resolution. An HDMI-out port allows you to connect a high-definition display, and the built-in Intel HD Graphics 4400 chip on the CPU is good for running the video without stuttering or sync problems. It's still cheap enough that it has a DVD player in, but despite this, it's just 25.3mm thin - definitely a step up. Unfortunately, despite being a little thinner than other cheap laptop models, the Aspire E1 is also heavier: 2.35Kg instead of 2.15Kg. It shouldn't make a massive difference in the long run, but if you're sensitive to weight, it might sway you towards another model. The DVD-RW drive does have one possible advantage, though: it's M-Disc compatible. M-Disc is an alternative optical disc format that uses discs that have a much longer lifespan than regular DVDs and CDs. Intended for long-term storage, they can survive for hundreds of years without decaying. This isn't likely to be a lot of use for students, but if you want to create ultra-reliable backups of important projects, it might come in useful. The connectivity and peripherals at this price are noticeably improved as well. A 720p webcam is a standard addition, as is wireless N, but you get gigabit instead of Fast Ethernet, which is especially useful if you're plugging into your halls' network through a wired connection. There's also a fairly standard set of ports: one HDMI, two USB 2.0, one USB 3.0 and a VGA port. If we were to imagine a typical student user for the Aspire E1, it'd be someone who used their computer for extended periods and who used it most days. Someone who needed a system that could double for a DVD player, television and home cinema, but who also doesn't want to close all of their browser tabs every time they want to watch a film. It's more than capable of being a tool for work and study, and it'll meet the entertainment needs of any average person. Most of all, this is the least you should expect to spend if you want your laptop to just work. There'll be no fighting with the hardware's inadeguacies when you're using this system.

4. Gaming-Capable Entertainment Laptop: Asus X550CC (?470+)

If you want a laptop that'll allow you to do everything you want and play games, you'll have to start spending serious money. The cheapest reasonable example we've found is the Asus X550CC, and that costs ?470 on a good day because it's now well over a year old. This has the odd effect of meaning that this ostensibly superior laptop has a CPU that's arguably worse than the cheaper version - it's an Ivy Bridge Core i5-3337U clocked at 1.8GHz, as opposed to the (slower-clocked) Haswell chip we saw in the Acer Aspire E1-572. Haswell chips are about 10% faster than Ivy Bridge ones for processing tasks, so the two are very similar in terms of raw processing power. What makes the more expensive system better overall isn't the CPU, though - it's the GPU. What makes this laptop so much more powerful than its cheaper contemporaries is the Nvidia GT720M graphics processor, which lifts much of the graphical burden off the CPU. As a result, the speed of graphics-intensive tasks is greatly improved. A standard laptop becomes one that can handle gaming to a reasonable degree. High-definition video becomes a cinch to play. Even the operating system's Ul is improved, and no matter how many visual effects you turn on, the system will remain smooth and responsive. This laptop is also the first we've looked at that provides a full complement of RAM. 8GB is enough to meet virtually any consumer need right now, especially if you're running the RAM-hungry Windows 8 (which this laptop is). If you're a student who might find themselves doing visual design work or multimedia editing, those 8GB of RAM will soon show their worth. If not, you can at least be happy they're available to handle your multitasking needs without resorting to slow, disk-churning swapfiles - although should that happen, the 1TB hard drive can more than accommodate. While the interior is convincingly high end, on the outside things are a little less embellished. This is a laptop that puts the focus on the interior rather than the exterior. So you get the standard 15.6" screen at 1366 x 768 resolution. You get a 720p webcam, smart touchpad and standard optical drive. You get Asus's SonicMaster speakers and WebStorage features. Unlike the cheaper Asus laptop, wireless N is paired with gigabit, rather than Fast Ethernet, but you still only get one USB 3.0 port and one USB 2.0 port. But the superior performance of the laptop more than makes up for its uninspired exterior. It's clearly aimed at users who want a bargain, rather than a low price, and unlike other systems, which might need significant maintenance (if not a complete replacement!) after a year or two, we can imagine this remaining competitive for the full length of a university course. Look at it this way: while there are things we'd change about the outside (extra USB ports would be particularly welcome), we can't think of anything wrong with the components inside it. That's a pretty good vote of confidence.

5. Convertible Laptop: Lenovo Ideapad Flex 15 (?600+)

The more you spend on a laptop, the more capable they become. At low prices, laptops are more or less competing with tablets in terms of what you can do on them. Get above the ?500 mark, though, and the systems become considerably more interesting. Indeed, the Lenovo Ideapad Flex isn't competing with tablets, because in many ways it is one. The Flex name means that the laptop is a 'dual mode1 notebook, meaning it has a tablet mode. It's not like some convertible laptops, where the screen detaches to become a stand-alone tablet. Rather, the screen on the Ideapad Flex is a touch-screen that can be flipped around and folded back on itself to essentially turn the laptop into a tablet-style device. Admittedly, it's a heavy and guite bulky tablet, but it's got many of the same conveniences: you can easily prop it on your lap while sitting on the sofa or in bed, you can hold it for use on the go, and you can rotate it for portrait or landscape orientation depending on what you prefer. Hardware-wise, it competes with laptops well above its price. It's got a ten-point touch-screen (perfect for using Windows 8 in tablet mode), an illuminated keyboard, and the CPU is an Intel Core i5-4200U - Haswell based and clocked at 1.6GHz. 8GB of RAM and a 1TB hard drive mean you aren't sacrificing the high-end luxuries for potentially gimmicky functionality, so there's no need to choose between good performance and a feature you might not use. One thing you don't get is an optical drive. This isn't unusual for lightweight high-end laptops, and it's worth remembering that very little else has fallen by the wayside in favour of the convertible gimmick. Not only does the 15.6" touch-screen compare favourably with every other laptop we've looked at so far (it's the same 1366x768 resolution, but it has vibrant colours and fast response times), it also has a graphics card that's right up to date, coming from NVidia's mobile 800-series. It's technically a GeForce 820M, but you might see it listed as an N15V-GM. Either way, it's a formidable piece of eguipment for any laptop. Other than that, it's fairly standard. Notable features include Fast Ethernet rather than gigabit Ethernet, a super-long nine-hour battery life and Dolby-enhanced speakers. In fact, as laptops go it's actually guite a convincing piece of hardware. It's competing with laptops around a hundred pounds cheaper, but if you use the tablet conversion feature, that's not guite as bad as it sounds. It might actually make using the device more discreet than if you flip open the lid and prop it on your desk. If you can afford the hardware, it's worth trying out. It could be a revelation, but if it isn't, you haven't lost much in taking the risk.

6. High-end Laptop: Asus N550LF (?700+)

When you're looking for the best machine you can get to work on, ?700 is about as much as you can spend on a system that isn't an excessively overpowered gaming laptop or a deluxe Ultrabook-level device that's priced over the odds. That's not to say that the Asus N550LF isn't suitable for gaming or high powered, because it's guite definitively both. For a start, it's got an Intel Core i7-4500U chip clocked at 1.8GHz. That's the top tier of mobile Haswell chips, so you won't find better speed or efficiency within the consumer market. As you'd expect, it has 8GB of RAM and a 1TB hard drive, both of which are standard long before you start to spend this much. The 15.6" touchscreen helps you get the most out of Windows 8 too. As if to bolster this laptop's credibility as a high-end piece of entertainment hardware, it doesn't come with a built-in DVD player. Instead, it has a built-in Blu-ray player. On most of the laptops we've looked at, this would present a slight dilemma due to the screen's low resolution. But in the case of the Asus N550LF, the screen resolution is 1920 x 1080 - perfect for watching high-definition videos and movies. There are yet more reasons this is a great choice for fulfilling all your entertainment needs. The graphics card, a Nvidia GT745, is good enough to play virtually any game you can throw at it, especially when combined with the Core i7 CPU. Standard speakers are out, and in their place you get four built-in Bang & Olufsen ICEpower speakers, which provide high-guality surround-style audio using nothing but the laptop's hardware. Furthermore, you don't just get integrated wireless N; you get dual-band wireless N, which allows you to sgueeze potentially twice the speed out of your WiFi network. Gigabit Ethernet is, of course, present as well. There are three USB 3.0 ports as well as both HDMI-out and Mini-DisplayPort. Again, everything you'd expect of hardware this price. One of the few genuine disadvantages is that it's guite heavy. At 2.6kg, it's half a kilo heavier than the cheapest laptops. Mostly that's due to the graphics card and associated hardware, but that knowledge won't make it any easy to carry around with you for a day or two. Still, if you want a laptop that'll last you the entire length of your course, this isn't a bad one to go for. Its processor and graphics chip are good for a few years yet, 1TB of hard drive space should last a couple of years before it gets filled, and while 8GB of RAM might need an upgrade in a few years, there's space for a second DIMM. We're not sure it's worth a student spending any more on a laptop than this, but if you buy this one, you definitely won't feel as though your money was wasted.