Aorus Thunder M7 - Can Aorus' first gaming mouse stand out from the established players?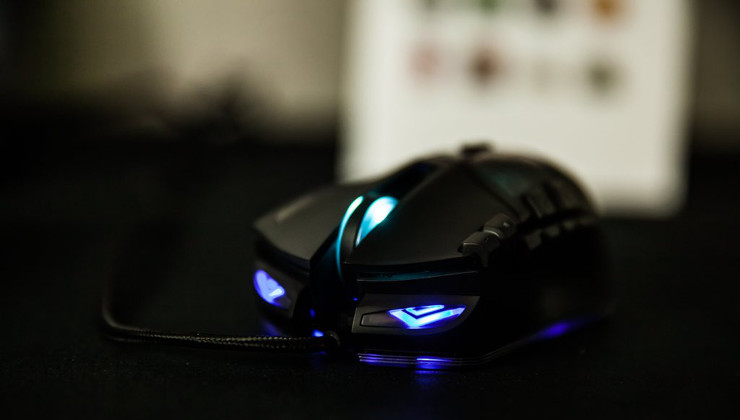 There's something pleasingly chunky about Aorus' first gaming mouse, the Thunder M7. This MMOcentric, multi-buttoned mouse rides high off the desk, has a pair of hieroglyphiclooking eyes shining out of the front of its grill and fits more comfortably in your hand than you might expect. When we first ripped it from its packaging, the tightlypacked side-buttons and elevated chassis weren't really selling it as a rodent we'd want to use for any extended period of time. But having spent a good while living - and gaming - with the Thunder M7 we've definitely developed a soft spot for it. Where that soft spot gets decidedly rocky, however, is with the main thrust of its overall design - those MMO-lovin' buttons. You don't need to be a rodent-loving aficionado to guess which sensor the Thunder M7 is relying on for its accuracy - that maximum 8,200dpi is a good indication that we're once more dealing with another laser mouse based on the Avago ADNS- 9800 sensor. That's no bad thing; familiarity often breeds contempt, but we're pretty happy campers when it comes to the accuracy of this sensor.

You wouldn't generally be using it at the top sensitivity, but you could argue that today's high-res desktops benefit from a little speedier mouse movement. That said, on a 4K desktop you're dealing with some tiny icons and the slightest twitch can throw you right off target. It's a good shout, then, that Aorus hasn't tried making the top dpi setting a main selling point. In fact, like the super-speedy Logitech Proteus, it doesn't offer dpi speeds that high unless you dip into the mouse's Macro Engine to set it up.

Trial and error

Aorus' Macro Engine software is designed for use across its currently limited peripheral range and offers all the tweaks you'd expect. There are five profiles to fill with your choice of macros and whatever bizarre button configurations you want, but you can also disable some to avoid cycling through unused profiles. The macro recorder is simple to use and pretty effective, and the key mapping is quick to operate, with visual indicators as to which of the nine buttons you're messing with. As we've already hinted, those buttons are very tightly-packed, which means that figuring out which one you're slapping your thumb against can be a bit of trial and error. Thankfully, they're not as cramped as they are on the strangely popular Razer Naga.

There's somewhere for us claw-grip gamers to rest our thumbs too, with a little Braille-like nodule on one of the central buttons to help. Even so, in a frenzied raid, the buttons didn't feel natural or particularly accurate. So, while the rest of the Thunder M7's design sits quite comfortably with our gaming sensibilities, those extra buttons simply don't do anything for us. We hope Aorus isn't limiting the scope of its designs though, as we'd love to see this chunky little rodent with just two programmable buttons next to the left mouse button, instead of the current mostlyuseless clump.