Eurocom M4. Turns out 3K is just OK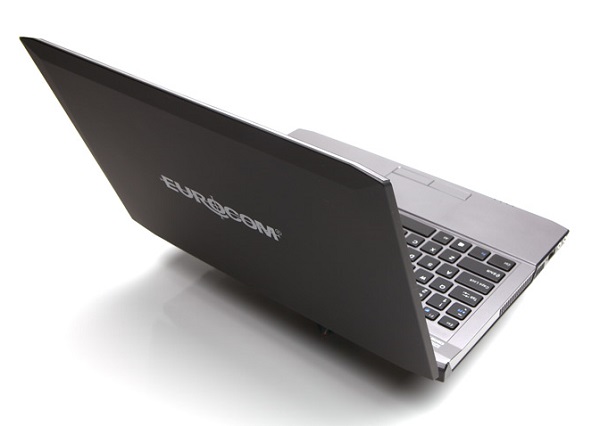 WHILE 4K MAY be all the rage these days, we've yet to see that resolution grace the screens of our gaming laptop panels. The next best thing, however, may be here. Eurocom's M4 gaming notebook made its way into our Lab sporting a super sharp 13.3-inch 3200x1800-resolution display. Dubbed 3K, it has a pixel density of 276 pixels per inch (PPI). This makes it poopoo all over Apple's much-touted MacBook Pro Retina display. What, 227 PPI? Is this 2013 or something? In general, the screen is excellent and the little Ultra HD (UHD) video content out there on the web looks great. Its beauty is aided by the fact that it's running on an IPS panel, so colors look vibrant and accurate.

The visual experience isn't perfect, however. Because its resolution is so high, many programs are not optimized for it and end up looking super tiny. Furthermore, both Chrome and Steam look incredibly soft on the M4. When we fired up Steam's Big Picture Mode, the screen started glitching out and became unusable. It's clear that many of these programs aren't optimized for UHD displays and it's a shame that there isn't more super high resolution video content out there. Perhaps these issues will be resolved someday, but they're real gripes today. In addition to the scaling issues, another quandary for ultra-sharp monitors is that they need really high-end GPUs; that is, if you plan to game on them.

Powering our Eurocom M4 is Nvidia's GeForce GTX 860M. The card actually runs on the company's new Maxwell architecture and features a 1,029MHz GPU clock, 2,500MHz memory clock, and has 2GB of GDDR5 VRAM. It's in the mid-tier of mobile GPUs by today's standard, but manages to blow away our zeropoint's older midrange 765M by roughly 30- 70 percent in our graphics benchmarks, which is really impressive. For 1080p gaming, it's great. In BioShock Infinite, we garnered average framerates in the mid-70s on the game's default medium settings. At 3K, however, it got ugly. The M4 could only muster average framerates in the mid-20s. We fired up Left 4 Dead 2 to see how the notebook would handle a non-taxing game and we actually got low-40s average framerates playing the game maxed out. While this is technically playable, we'd probably opt to lower the res for a smoother experience. In general, we'd crank this down to 1080p resolution for the majority of today's games so that you can run them with more bells and whistles turned up while getting a smoother framerate. While the GPU may not be the highestend card out there, our overall configuration still rang in at $2,319, which is by no means cheap. That said, it did come with good components. Inside the relatively small 13.2x9.9x1.28-inch chassis is an Intel quad-core 3GHz Core i7-4930MX, which can turbo up to 3.9GHz, and 16GB of DDR3/1866 RAM. At $1,096, the CPU itself accounts for almost half the price of the notebook. In our CPU tests, the M4 performed between 5 percent to 9 percent better than our zeropoint's Core i7-4700MQ. In terms of storage, our unit came with a 120GB Micron M500 mSATA SSD, and for mass storage, a 1TB 7,200rpm HDD.

In the battery department, the M4 comes with a 6-cell lithium ion, which lasted over 3.5 hours in our video rundown test. Rounding out the chassis, we have a competent backlit keyboard and trackpad with two dedicated buttons. In general, the M4 has a lot going for it, but it does have its fair share of issues. While the laptop never got hot, it did get plenty loud when we were gaming. In addition, the speakers are weak, and it didn't help that the headphone jack would randomly not work at times. The M4's biggest issue, however, is its price. Spending over $2K for halfway-optimized 3K may not be worth it for many.