Lend us your ears - special review of headset for you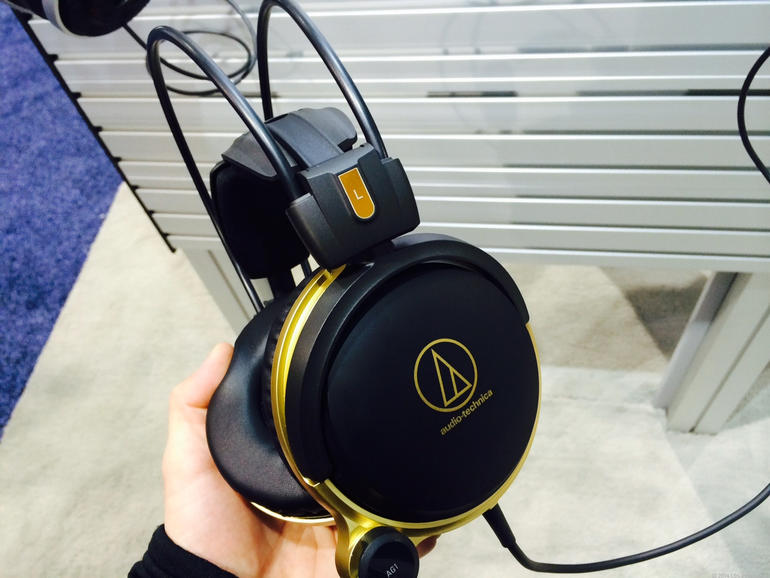 Whether you've a fortune to spend, a budget to stick to or a terrifying phobia of cables, we've got the headset for you.

1. Audio-Technica ATH-AG1 ?232 audio-technica.com

Were it all about the sound quality, then pro-audio outfit Audio-Technica would be on to a winner with its fancy ATH-AG1 headset. It is the audiophile brand's first foray into gaming audio and the impressive cans boast some of the best in-game sound that we've ever heard from our PC. The AG1's concession to gaming means it has the exaggerated bass that we've come to expect from such headsets, but doesn't come at a cost to the rest of the aural experience. The high notes are as crisp as Kettle Chips and the frequency response range offers an impressive depth to the sound. It's worth noting that the mic is utterly fantastic too. But it's not all about sound, because if the damn things won't rest on your head as comfortably as a noisy cloud then they are simply no good for an extended gaming session. The Audio-Technica cans use a Wing Support Mechanism to rest this lightweight headset on your bonce, which is great if the size of your head fits in with the AG1's design. Those with a slender skull, like our Phil, may struggle to find a comfortable fit. So, while the sound quality matches the high price tag, the overall design might not.

2. CM Storm Sirus-C ?69 gaming.coolermaster.com

Some top-bod at Cooler Master had been heard to shout "moar noiz!" during the design phase for the Sirus-C headset, and so its engineers threw another pair of drivers into these CM Storm cans. That means each pillow-soft ear cup has two separate drivers in it - a 44mm one for the mid-range and treble, then another 40mm woofer to hound your ears with throbbing bass notes. Because of the extra sound processing and amp tech, these hefty cans waddle off the scales at a rather weighty 425g. It's lucky the build quality is so good and the padding so ample. What do those separate drivers mean then? Well, let's be clear, the audio from the Sirus-C is very good, but it's not really noticeably better than a decent single driver setup. The standard frequency response range means that while the sound is clear both at the top and bottom, it doesn't produce the depth offered by singledriver sets with a wider range. The microphone is a little underwhelming; it's relatively clear but just a bit flat. And that's kind of how we feel about the Sirus-C as a whole - it's a very competent headset, but despite the impressive audio specs it doesn't reach the extra heights you might expect.

3. Gamdias Eros ?46 gamdias.com

This bargain-priced headset from peripheral newcomer, Gamdias, is a bit of a surprise. On first sight it looks every bit the ?46 gaming headset - all glossy red and black styling with a fat, pivoting boom mic. It doesn't scream quality, it just mumbles something about certain plastics being cheaper to manufacture. But throw the Eros over your ears and you'll be as stunned as we were about the level of audio loveliness that flows into your lugholes. The Eros combines bold, pounding bass notes with pin-sharp treble, making it a great gaming headset. It only rocks a modest 20Hz-20KHz frequency response range, but sounds almost as good as sets costing twice as much. Despite the questionable appearance, the cans are comfortable and cushion your head in gentlypadded luxury - ideal for that lengthy Battlefield 4 frag-fest. The mic is nothing to get excited about, but it doesn't let the Eros down when you're screaming at your squad for a little fire support. The audio quality isn't quite so astounding musically, with treble feeling just a little too harsh for some vocals. Yet for a well-priced gaming headset, you can't really ask for more than what Gamdias has delivered.

4. Gamdias Hebe ?35 gamdias.com

With Gamdias offering the Eros for a bargain ?46, what can we say about the even-cheaper Hebe? For a start, I guess we can say that Gamdias hasn't really got the hang of styling PC peripherals for anyone over the age of 17, with glossy red colour utterly dominating these budget-priced cans. We can also say that this isn't a headset for any Twitchers out there who want their words to soothe the eardrums and not perforate them - that microphone is only just functional enough for the odd gruff team command or a bit of trash-talk mid-game. Aurally, the Hebe is as much of a surprise as its big brother Eros. The sound quality is similarly excellent, with a virtual soundscape that's crisp and effective enough to allow you to place audio sources with impressive accuracy. We don't know what Gamdias' magic formula is - and it certainly wasn't present in its ropey Hephaestus headset we checked out months ago - but it has managed to create a pair of budget-priced headsets that do away with unnecessary gimmicks and just deliver genuinely impressive audio. This 3.5mm jack connected set is slightly cheaper than the USB-cabled Eros, but the sound is almost as good.

5. Kingston HyperX Cloud ?86 kingston.com

When we first saw Kingston's HyperX-branded headset there was a twang of recognition in our collective hivemind tech lobes. It is effectively QPad's excellent QH-90 headset but with a little bit of a paint job. Then there was an immediate shudder as we heard that Kingston had taken one of our favourite headsets and decided that it needed bigger ?splodes. Yup, Kingston has turned up the dial on the bass. To our surprise, it hasn't taken anything away from the original headset's aural quality. Our one concern with the QH-90 was that the bass response was a little light because of the delightfully balanced EQ that QPad had used. Kingston has augmented the low-end of this HyperX version to give the sub-20Hz frequencies a punch that is more felt than heard. It's not punching your ear like the Mad Catz cans, but adds depth to the bass notes without muddying other sounds. And because it's practically identical to the QH-90 set, it's got an elegant, robust and lightweight design that feels comfy after long periods of use, and the detachable mic is as clear as you could want. Incredibly, Kingston has improved on an already impressive headset.

6. Mad Catz FREQ 4D ?94 madcatz.com

Hands up all you gamers who have been after a total immersion helmet. Y'know, so you can feel what it's like to have a round enter your skull or a grenade explode next to your ear. Thanks to Mad Catz, you can now get mighty close with its ViviTouch tech. The idea is that when you get low-end sounds passing through the ear cups, you get a palpable vibration through some fancy harmonic distortion. We must admit none of that sounds particularly pleasant on the page, but with ViviTouch turned on (via a switch on the headset itself) you do get a fairly satisfying bass thud. Unfortunately, the FREQ 4D is tuned towards bass-heavy sound, which means even with ViviTouch shut off it is practically impossible to flatten out the EQ enough to make music or films sound anything other than utterly synthetic. Sadly, that makes the FREQ 4D's gimmick rather aurally destructive - it is suited for gaming to the detriment of anything else. We have to tip our hat to the Titanfall-branded aesthetics, though, if only for the fact that the set looks like it was ripped straight off Porkins' charred corpse after crashing into the doomed Death Star.

7. SteelSeries H Wireless ?205 steelseries.com

Well, SteelSeries just misses the award for the most expensive headset in the test. Unlike the Audio-Technica cans, that price premium isn't tied into its audiophile roots but in the underlying tech. The H Wireless is, obviously, a wireless headset and pulling wires out of peripherals always ends up adding to the price tag. Still, ?205 is a huge amount to spend on a wireless headset, so you would expect something rather special for the money. By and large, the SteelSeries headset pretty much delivers. The aural quality is impressive, with solid, controlled bass notes, clear mid-range and crisp treble. But it's not exactly class-leading - the Kingston HyperX cans still stand out as the best-sounding in this test. But you're not really paying for audio; you're paying for wireless connectivity. And this is where the SteelSeries set excels. The transmitter box is part amp and part charging station, with an OLED display and physical dial and push button that is simple to use. With a pair of Li-ion batteries - one for play, one for charging - you'll barely miss a beat and the 12m range is excellent. It's a seriously impressive kit, but hugely expensive.

8. Turtle Beach EF Z300 ?156 turtlebeach.com

Craving a life without leads, but the SteelSeries cans just too rich for your blood? Well, the Z300 from Turtle Beach is both cheaper and lighter, but is sadly not quite capable of delivering the sort of aural experience you'd want - and might rightfully expect - from a ?156 set of cans. The wireless setup itself isn't the problem. With dual-band Wi-Fi you get almost the same range as the pricier SteelSeries headset, and there is Bluetooth pairing if you are keen to link up to a separate laptop or mobile device. The Turtle Beach headset only comes with a single battery, so you'll have to rely on that hoary ol' USB chestnut for all your charging purposes. But yes. The audio. It's not necessarily bad, but it really doesn't stand out from the likes of the bargain-priced Gamdias cans we've also reviewed here. The virtual 7.1 surround sound does an okay job of offering a more expansive soundscape than plain old stereo, but only really to the extent of giving you a bit of a separation between the front and rear noises. That underwhelming feeling extends to the general sound quality - big explosions sound fine, but then they do on the Hebe headset too...for a quarter of the price.