Aspire Switch 10. Not quite ready to steal the crown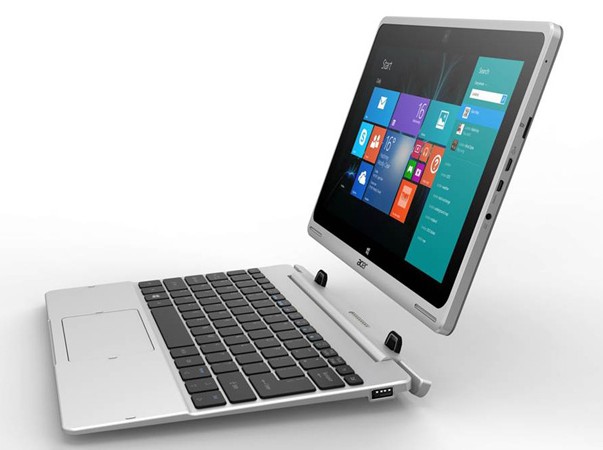 IF AMAZON'S LIST Of best-selling laptops is any indication, there's a quite a market for Windows 8.1 convertible laptops-and as of late, the lion's share of buyers has been sinking their money into Asus's Transformer Book T100. Acer seems eager to take on the people's choice with its Aspire Switch 10, a similarly spec'd 10.1-inch convertible with two key design differences. When it comes down to internals, the Switch 10 essentially contains the same guts as the T100.

Its 1.33GHz Atom Z3745 CPU is just a slightly newer version of the T100's Z3740 that features a few small adjustments to the onboard graphics specs, and the benchmarks reflect the narrow gap in performance. In our 3DMark Ice Storm, Stitch, and ProShow 5 tests, the Switch 10 edged out the T100 by slim margins-for Stitch and ProShow, it bested the T100 by just a minute or two. Where the Switch 10 sets itself apart is through its magnetic connector between the keyboard and tablet sections, as well as its trackpad. The former is a handy feature, and one we much prefer over having to press a button in order to pull away the tablet for independent use. Even clumsy folks (like some of us on staff) will find it easy to separate and reattach the Switch 10's parts without having to place the laptop on a table for stability-something we had to do with the T100.

The trackpad is also notable, but for more mixed reasons. Among its positive traits are its responsive, firm buttons and its generous size, but the downside to the latter is accidental mousing when typing on the diminutive keyboard. If you've got large hands, you'll be in for a lot of frustration if you don't adjust the angle of your hands while typing, as there's no palm rejection option available. If that were our only main quibble with the Switch 10, we'd likely still pick it over the T100 (which we gave a 7, too), as it has a brighter screen, better battery life, and runs just as smoothly for basic productivity and the kind of light media consumption these lower-end laptops are meant for. Its handful of ports-HDMI, microSD, headset/ mic jack, micro USB, and full USB-let us do day-to-day tasks like transfer photos from a camera, chat over Google Hangouts, and watch Netflix on a much bigger second screen; YouTube videos and ripped Bluray files ran without a hitch while Spotify, Word, Excel, and Firefox with a handful of tabs were loaded in the background. We also got an hour more of battery life in our rundown test than on the Asus. And while the Switch 10 feels a bit too dense to just throw into a bag and carry everywhere with you at all times, it's still lightweight enough to take on an extended trip and get some work done-a sort of netbook successor that offers what netbooks should have in the first place. It, like the T100, even comes with a complimentary copy of Office 2013.

Unfortunately, the Switch 10's keyboard makes it suitable only for the most emphatic typers (or those willing to, for whatever reason, bring a separate Bluetooth keyboard along with them). Light typers will find themselves swearing constantly under their breath when a key doesn't register. This, in addition to a lack of USB 3.0 ports, make it hard to see this particular convertible unseating the current king just yet. But it should win the hearts of some of the populace.