Computing Just Got a Lot Cheaper, Rounder. Zotac Zbox Sphere OI520 Plus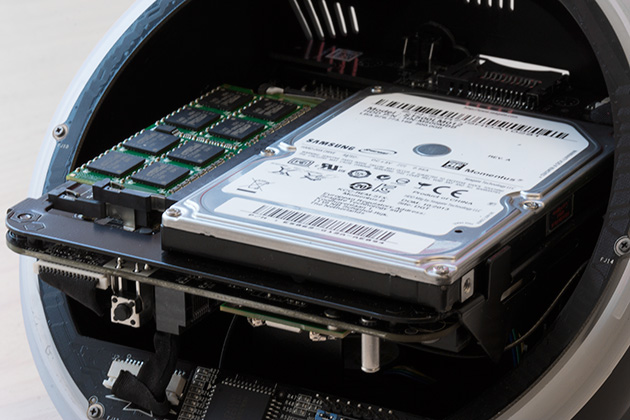 The Zbox Sphere OI520 Plus is Zotac's latest addition to its line of tiny project PCs, but this A little desktop looks different from its square-shaped siblings. The Zbox Sphere replaces utilitarian corners with roundness and whimsy, but still manages to be a compact system that's perfect for home entertainment or as an everyday desktop PC. The only caveat? Bring your own operating system.

DESIGN AND FEATURES

The aptly named Zbox Sphere is about the size of a small cantaloupe. Its globe-like chassis is molded black plastic, with a smooth, matte finish, unadorned except for a blue, glowing ring that lights up when the PC is powered on. The Zotac logo is printed on the top of the spherical case. The sphere is not a perfect globe, however, as it also has a cube-shaped base, with a flat bottom for facilitating stable footing, and a rear panel for ports. There are vents on the bottom and at the rear of the chassis. Measuring 6.3 by 6.1 by 6.1 inches (HWD) and weighing only 1.73 pounds, the Zbox Sphere is tiny enough to be in the same class as ultra-small-form-factor desktops like the Polywell i2304-i5 or the Editors' Choice Apple Mac mini. Although such PCs are usually designed to be tucked out of sight, the Zbox Sphere is really meant to be a little more conspicuous. Its design, which seems to emulate that of Google's ill-fated Nexus Q media hub, is sure to grab people's attention and start conversations. The round front of the chassis comes off with a twist-no tools necessary-to reveal the guts of the system, beginning with a small Zotac motherboard mounted horizontally. On top of that board is a 2.5-inch, 500GB, 5,400rpm hard drive, and next to it is 4GB of memory (with DIMM slots for up to 16GB). On the underside, you'll find an Intel Core is-420oU CPU and a surprisingly up-to-date 802.11ac dual-band Wi-Fi module (the system also has Bluetooth 4.0). Below that, in the base, is a small cooling fan.

There are plenty of ports located on the back panel, next to the Power button: DisplayPort and HDMI outputs; a Gigabit Ethernet port; Line-In and Line-Out jacks for audio; an SD card slot; and six USB ports (four USB 3.0, two USB 2.0). The display outputs provide a nice bit offuture-proofing, as both the HDMI and DisplayPort connectors support higher-than-HD output up to 4K. You'll find a USB 2.0 port on the right side ofthe system and a Kensington case lock slot on the left. No software to speak of comes preinstalled; the Zbox Sphere doesn't even come with an operating system. The drive will support either Windows 8 or Windows 7-which will cost an extra $90 to $150, unless you have a spare copy lying around (and you'll need an external optical drive if you're installing from a disc)-or Linux or any other OS you want to put on it, should you want to roll your own version of a Hackintosh Mac mini or a Chromebox. Zotac covers the Zbox Sphere with a two-year warranty on parts and labor, but doesn't provide support for user-installed software.

PERFORMANCE

Though tiny, the Zbox Sphere offers decent performance, whether used as a desktop or as an entertainment hub in the living room. This is mostly thanks to the laptop-class dual-core CPU, which is sufficiently speedy and keeps the system running cool?an essential quality in a small chassis. In PCMark 8 Work Conventional, our general-use test, the Zbox Sphere scored 2,713, nearly identical to the result we saw from the Polywell i2304-i5 (2,733). The Zbox Sphere took 5 minutes, 48 seconds, to complete our Photoshop test. That time also places it comfortably between the Core i7-powered Apple Mac mini (4:15) and the less impressive Intel NUC Kit D54250WYK (9:11). The Polywell i2304-i5 couldn't run the test, due to software conflicts. Because the Sphere relies on Intel's integrated graphics, it lagged behind the Polywell desktop in our 3D graphics tests. The system scored 4,063 in 3DMark CloudGate, our medium graphics test, and 236 in the more-demanding 3DMark FireStrike Extreme. Similarly, the Zbox Sphere fell behind the Polywell system in gaming tests, but neither one produced playable results in any case.

CONCLUSION

If you want a small PC for entertainment and home use, but prefer something a little more eye-catching than the typical black-box designs of so many ultra-small-form-factor desktops, the Zotac Zbox Sphere OI520 Plus fits the bill. The round design is fun, and the small desktop offers decent capability for a low price. Even factoring in the expense of the operating system, it's one of the more affordable small PCs on the market. It doesn't replace the Editors' Choice Apple Mac mini, which has a more refined design and comes with a slick operating system and software, but it should still be considered a top choice.