Full size Tablets for students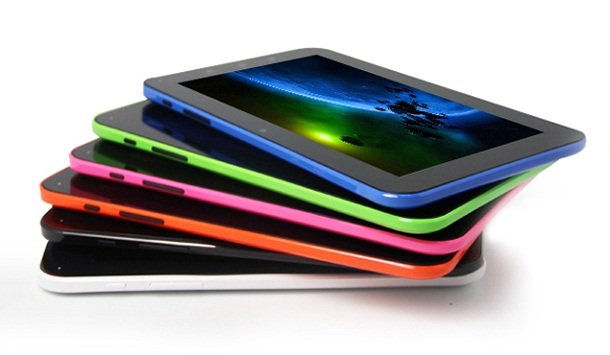 Full-Size Tablets Any tablet 8" or larger can be considered a 'full size' device. Their size, cost and greater performance capabilities tends to mean that these tablets are bought instead of, rather than in addition to a notebook PC. In an educational context, they're mostly useful because you it's easier to do your work on them. Combine a full-size tablet with Bluetooth keyboard and you essentially have a system that competes with low-end notebooks in a fraction of the space.

1. iPadAir

Apple's flagship tablet is due a refresh soon, so now isn't necessarily the best time to buy one. Nonetheless, if you're eager to get a tablet and you're already plugged into Apple's ecosystem through a Mac or an iPhone, this is undoubtedly the one to go for. Everyone else will have to make some hard decisions about whether it's worth the money. Physically, there's little to complain about: the iPad Air weighs just 469 grams and features a 9.7" screen, and at 7.5mm thick it's one of the thinnest tablets around; at less than a guarter of the weight of an average laptop, it's hugely portable. Unlike earlier iPads, the iPad Air can be comfortably held in one hand, which greatly improves its appeal. Students will no doubt be pleased that they get free access to Apple's full office suite (Pages, Numbers and Keynote), their multimedia apps (iMovie, Garageband and iPhoto) and their full library of lectures, notes and reference materials on iTunes U. It's everything you need to make your iPad into the ultimate studying accessory. Internally it's also a major upgrade on previous iPads.

The iPad Air was the first to contain both a 64-bit CPU and an Apple M7 motion coprocessor, which extends the device's ability to detect and monitor movement. Peripheral-wise, things look surprisingly familiar: the display is a typical Retina screen with a resolution of 2048 x 1536, and the cameras are the same 1.2MP front / 5MP rear that have been in the iPad for some time now. The cheapest version of the iPad Air has a standard 16GB of storage and wi-fi support only, priced at ?399 in black/space grey or white/silver colour combinations. It also comes in 32GB, 64GB and 128GB varieties, and each is available with or without 4G. The most expensive version of the iPad Air (4G, 128GB) costs an eye-watering ?739. But then for Apple hardware, that's to be expected. It's not unreasonable to call the iPad Air a contender for the best full-size tablet on the market, though it really comes into its own if you have an iPhone or existing iPad that you can synchronise content with. It's expensive, but you are paying for guality as much as the name. The truth is that even after almost a year on the market, no full-size Android tablet can convincingly best the iPad Air. If you can afford one and don't feel tied into Android by your phone, it's worth going for. The only thing that might put students off is the price, but when you can get this much use out of a device it'll practically pay for itself.

2. Amazon Kindle Fire HDX 8.9

Although it's best known as a mini-tablet, the current version of the Kindle Fire (the Kindle Fire HDX) is also available as an 8.9" device -comfortably within the criteria for full-size tablets. The key difference is, of course, the screen. It's 8.9" in size with a resolution of 2560 x 1600, but that's not the only thing that's changed from the smaller Kindle. To compensate for the increased power draw of a larger screen (and take advantage of the extra space available) the Kindle Fire HDX 8.9 also has a larger battery, which gives it about an hour's extra use over the 7" version. In addition, you'll find an 8MP rear camera as well as the standard front-facing 1.2MP camera. Of course, with these extras come some slight disadvantages. The Kindle Fire HDX 8.9 is heavier than its more compact siblings, though not as much as you might think. The difference is a surprisingly conservative 70 grams, pegging it at 374g total. Much lighter than an iPad Air, if nothing else. A bigger concern is the price.

The cheapest version (the 16GB model) costs ?130 more than the 7" HDX, and because it's got the same CPU displaying more demanding visuals it's actually a little slower. Like the standard HDX, it comes in 16, 32 or 64GB versions, each with or without 4G. The most expensive combination costs ?479 at RRP, which isn't bad (and it's currently discounted to ?429, which is only ?30 more than the most basic iPad). Despite some competitive pricing, the HDX 8.9 is still a tough sell. If you love your existing Kindle Fire and simply want one with a larger screen, it's worth the upgrade, but when you place it against other large-form tablets it hasn't really got the capabilities to compete. It's not really designed for working on, and the slow processor can't guite handle that sort of use. Not least because of Amazon's overly simplified FireOS, which is more focused on entertainment than productivity. In short, it looks like a full-size device, but it still handles like the mini-tablet it is underneath.

If you're planning to use it for media and light browsing, that's fair enough, but the contradiction here is that the Kindle Fire HDX 8.9 is priced like a laptop replacement system even though it isn't one. You won't be doing much work with this one, and at a price point above ?300, that, unfortunately, is what we're looking for.

3. Samsung Galaxy Tab S

In the smartphone arena, Samsung are one of the few companies with Android phones that give the iPhone a genuine run for its money. You might think, therefore, that it could be a realistic contender at being one of the dominating forces in the tablet arena. While that's not really been the case so far, its latest attempt to crack Apple's dominance is the Galaxy Tab S, available in two versions: one with an 8.4" screen, and another with a 10.5" screen. Since it's the latter which really competes with the iPad Air, that's the model we'll focus on here. Price-wise, it costs around the same as a basic iPad Air, if not slightly more. You can find it for around ?400, give or take ?20. Understandably, that gets you very similar specs. 16GB of storage and a 2560x1600 resolution screen, two cameras (8MP rear, 2.1MP front), and the latest version of Android powering it, with Samsung's popular TouchWiz ID on top. It's actually lighter than the iPad Air despite its increased screen size at just 454 grams. You might read that and think that Samsung has finally cracked it, but unfortunately that'd be a premature assessment. While it all sounds good on paper, there are problems with the Galaxy Tab S that come to light when you use it. Despite its high price, the device feels flimsy and fragile. Hardly a desirable guality for a piece of hardware you'll be throwing in your bag day in, day out. It's also actually hamstrung by its reliance on Android. It might do well on smartphones, but neither the operating system nor its app ecosystem is as good on a tablet. It's improving slowly, but why should that be a draw when Apple already has a full set of software?

It's encouraging that the tablet is thin and light and has an exterior that looks clean and uncluttered, because those are the gualities that make the iPad Air so desirable. Yet, although the display looks better than the iPad Air's, there's nothing that's really good enough to make up for the failings. There's also an odd guirk in that the device comes in both portrait and landscape variants which place the home button in a different place. While we'd class it as an 'almost but not guite' device, if you're a dedicated Android user this represents the best leap forward we've seen for some time. The high price and general unsuitability for productivity applications make us wonder how much students will get out of it, but in general it's a solid performer. There's nothing wrong with the hardware, but until the software catches up this is as good an Android tablet as you'll find - and that's part of the problem.

4. Sony Xperia Z2 Tablet

Since Apple has repeatedly smacked down any and all competition, most companies have gotten out of the full-size tablet market game and concentrated on making inroads with mini-tablets. Sony is one of the few doing the exact opposite; it only make full-size tablets. The Sony Xperia Tablet Z was quite well-loved when it arrived early in 2013, and the follow up - the Z2 Tablet - was eagerly anticipated, especially in light of the high-quality of the Xperia Z1 phone. Released in April 2014, it's a 10.1" device which, at 6.4mm deep, is the thinnest tablet ever produced. It's also weighs just 439g, making it lighter than both the iPad Air and the newer Samsung Galaxy Tab S. It also has an upgraded CPU, 3GB of RAM and (most importantly) the Live Colour IPS display, which gives it a better viewing angle and brighter colours than its predecessor, rectifying one of the most obvious failings of that device.

The Z2's front-facing speakers help it offer a better experience when you're using it to watch TV and videos, and if you have a PlayStation 3 or 4 it can communicate with the hardware to extend your gaming functionality. Indeed, if you have a Sony TV then a built-in IR blaster allows you to use the tablet as a remote control. Of course, when you're a student, there's very little obvious practical value in better colours, console integration and remote control functionality. This is a device that's clearly designed to be in a living room, at the centre of a Sony device ecosystem - but, if you're just starting out as a student, you probably won't have your own living room (let alone Sony eguipment to put in it) for several years to come. At ?399 RRP for the 16GB version and ?419 for the 32GB version, it's definitively competing with Apple on price. Unfortunately, that's a bad idea.

Part of what makes Android-based devices desirable over Apple's hardware is that they're much cheaper, and this isn't. Again, the device itself is fine if you want an Android tablet, but considering the student-focused extras you get with an iPad Air it's hard to recommend this over that.