Minix Neo X8-H. Lots of promise, not as much fulfillment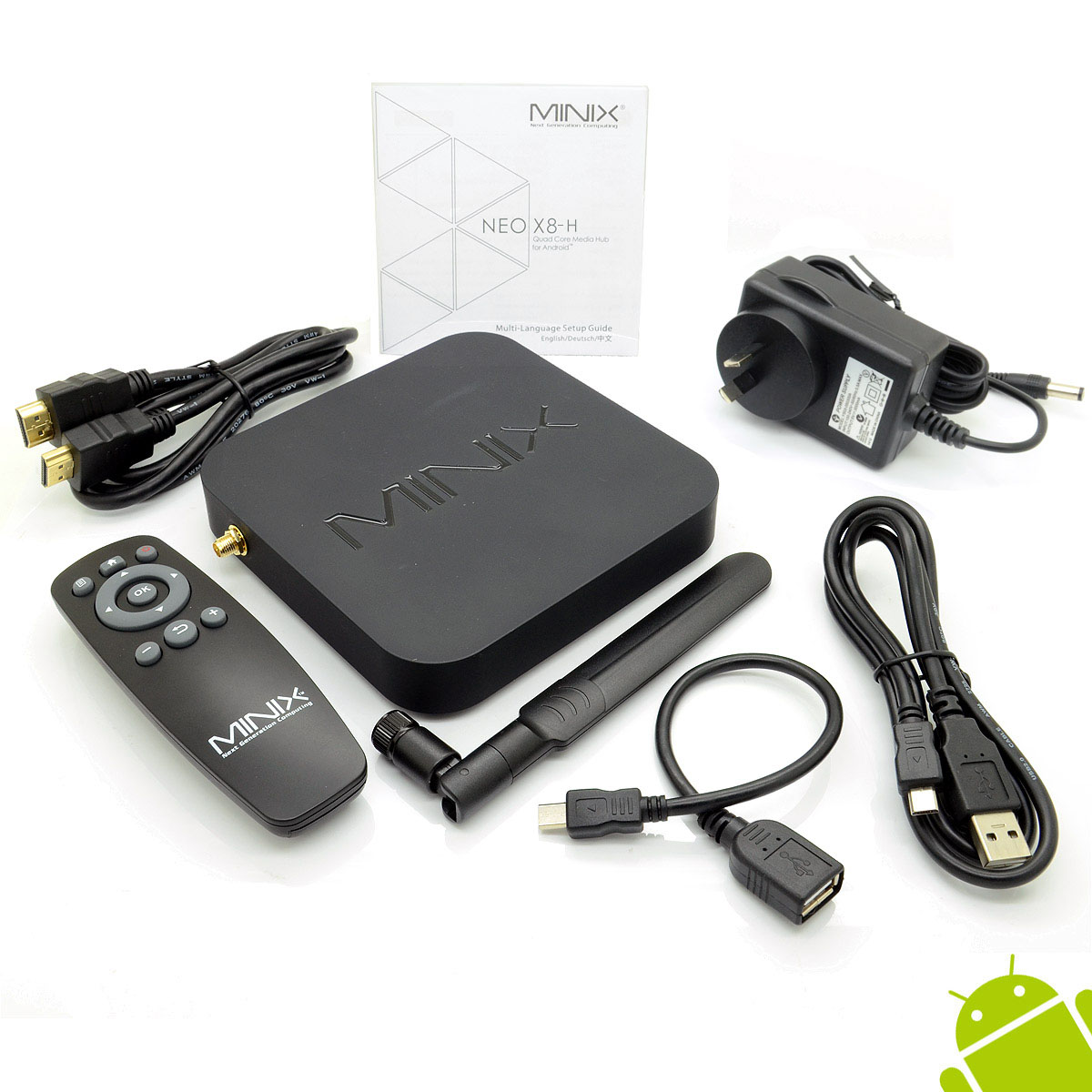 EVERY NOW AND THEN, a product comes along that gives a glimmer of what could be. In the case of the Minix Neo X8-H, that's the future of using Android mini-PCs as streaming set-top boxes. While the Roku 3 and Apple TV each certainly fulfill their audiences' needs, folks who crave better input controls and customizability may eventually find that they'll get their wish without having to shell out serious cash for a DIY HTPC build.

We had no better demonstration of this than when we first encountered the Neo X8-H's bundled remote. It has mushy buttons and must be pointed directly at the X8-H for input to register. So instead, we paired our Android Bluetooth keyboard and a Bluetooth mouse to the unit to dramatically increase our speed and accuracy in navigating screens. (You can also plug a standard Windows USB keyboard and USB mouse into the unit via its USB 2.0 ports, but without access to a dedicated "Home" button, it's not quite as good.) Free access to the Google Play store also meant we could customize the content available on our Neo X8-H.

We immediately downloaded Amazon Music with Prime Music, and then took advantage of our keyboard/mouse setup to create a few new playlists; having a scroll wheel made it easy to skim through long song lists designed for a touch interface. Gaining access to videos stored elsewhere on our network through XBMC was also a snap. Besides flexibility, being built on Android OS offers much wider breadth than today's top-dog set-top boxes: The Neo X8-H's range of abilities encompasses editing documents, spreadsheets, and presentations via QuickOffice (which comes pre-installed), as well as functioning as a portable hotspot. If you ever want to travel with this Minix, it could be handy for more reasons than just killing time via TV episodes or music. But despite these features, extra goodies like 4K support, and its outer good looks-a satiny, lightly rubberized black finish and rounded edges that balance out its surprisingly large external antenna- the Neo X8-H doesn't quite deliver as polished an experience as its competitors. Part of this isn't wholly the unit's fault: Due to the Android app landscape, some apps only have phone-screen?optimized interfaces (which look a bit silly on a TV), and Amazon has yet to release an app for Amazon Instant Video. Without Silverlight or Flash support in Android OS, you won't be able to access that catalog of movies and TV shows. But the majority of the issue revolves around the Neo X8-H's own interface and selection of pre-installed software.

Turn it on for the first time, and you'll have to go through the process of digging into settings and adding a Google account all on your own; there's no initial setup wizard to run you through it. Its main screen is a very basic, borderline-unattractive 10- foot UI that forces you to either organize shortcuts to Android apps in pre-set folders like "Video" and "Music," or litter the bottom edge with icons. And barely any apps come pre-installed; of the few notable ones included (like aforementioned XBMC and QuickOffice), Netflix was the lone representative of the streaming-media services we expected to see. Added to this clunkiness is justpassable performance. Despite posting higher numbers in our benchmark tests, streaming video over Netflix was heavily compressed (even when running it over a fat pipe) and emulated games played through the RetroArch app stuttered. In comparison, our first-generation Nexus 7 had smooth playback in both scenarios. Essentially, you'll still be able to catch up on Orange is the New Black just fine, but it won't look as nice-and using the Neo X8-H as a gaming device is currently unattractive. (Particularly since it's yet to be updated with a driver to support an Xbox 360 controller, something the Nexus 7 natively supports.)

At $50 more than its nearest competitors, the Neo X8-H isn't positioned to win over a majority of households just yet- after all, extra options can balance out a lack of attractiveness, but not so an inability to match other set-top boxes in performance and user experience. Still, it's a nice example of what features we should be demanding as standard.